John John Florence has clinched his first WSL World Title in Peniche, Portugal—and in dramatic fashion—with a victory at the MEO Rip Curl Pro, marking the first time a Hawaiian has held the world surfing crown since the late Andy Irons in 2004.
Florence said:
I honestly can't believe it right now, it's obviously not sunk in just yet. I know my mom and family are watching online right now and I really wish they were here with me. I'm so stoked. I've worked my whole life towards this and I have so many people to thank for this.
Watch a recap of the final day's action below:
John John Florence's Season
Florence's season started out slowly with mediocre results across the Australian leg before posting a victory in Brazil in May. The Hawaiian carried the momentum of his Rio de Janeiro win to strong showings in Jeffreys Bay (2nd), Tahiti (2nd) and France (3rd) while challengers Gabriel Medina, Matt Wilkinson, Jordy Smith and 11-time WSL Champion Kelly Slater failed to maintain consistency, eventually falling out of reach in Portugal.
It's been a long year, but one of the best years in my life, so many fun events and just having a really good time all together and I've learned so much. I was expecting it to go to Hawaii and I was just trying to keep surfing through heats.
A six-year competitor on the elite WSL Championship Tour, the Hawaiian had been threatening the throne since his inception in 2011 having previously finished 4th (2012) and 3rd (2014). Seemingly destined for surfing excellence since stepping foot on board at two years young, Florence has spent the last two decades evolving into one of the most dynamic talents the sport has ever seen.
My whole life has gone into this, everything I've done but just this year especially, learning so much about competitive surfing, focusing completely on it and having so much help and support, it's been amazing. The title was my goal this year so at this point I'm just going to go out and have fun.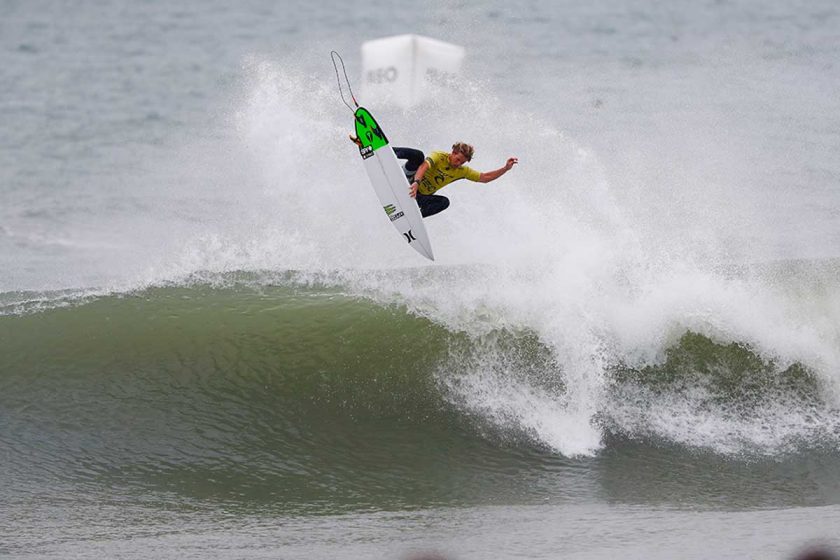 Congratulations John John Florence.
Featured image: An emotional John John Florence is interviewed after reaching the top spot on tour. Photo: © WSL