To any avid surf fan, it's no secret that 11-time World Champ. Kelly Slater is hands-on when it comes to surf board design. While he was partnered with Channel Islands Surfboards, Kelly was always heavily involved in the design process. From trying new shapes and materials to different fin configurations, his experimentation has been crucial to modern surfboard design which has shaped a generation of surfers. When you actually think about it, what would the modern day shortboard look like today without Kelly Slater's influence? Maybe we would all still be struggling to ride waves on those super-thin popscicle sticks!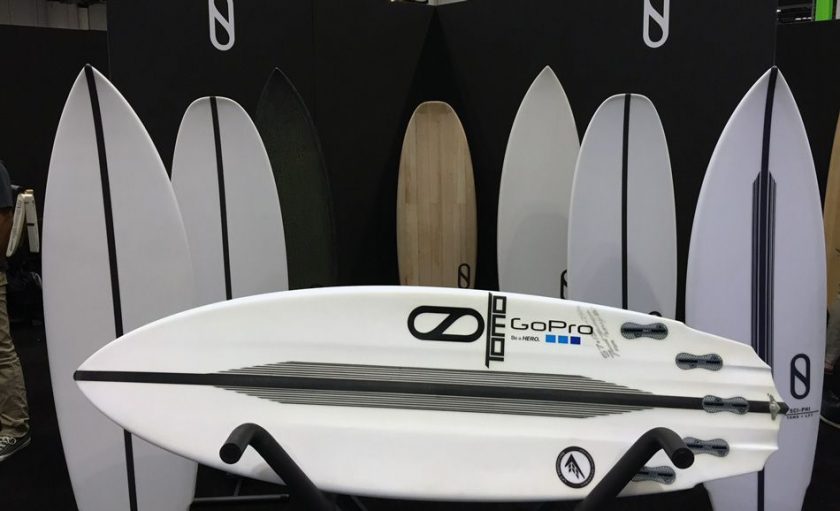 Over the last two seasons Kelly has parted ways with both his long-term backers Quiksilver and Channel Islands. He's been busy though, having already launched a few surf-lifestyle projects—a clothing brand, a health drink and a wave pool to name a few.
Now Kelly Slater can add surfboard design to that list—so he will now be surfing and selling surfboards that bear his own name and brand logo. As SurfEurope put it "it's a predictably bland sort of logo, neither very inspiring nor offensive, but nicely in keeping with the sci-fi aesthetic of the boards themselves."
Surfers won't be riding the boards for the logo though…at least for the most part. Following on from Kelly's many years of board experimentation, these new designs are definitely unique—some with a round nose, others with serrated dove tails, but all luminously white and divided by a thick black stringer (which apparently consists of 'aerospace composite').
The shaper's marks are from Tomo (Daniel Thomson) and Webber (Greg Webber); as SurfEurope explain this is interesting because "neither is Al Merrick, and also, tangentially, because the latter is one of Slater's main rivals in the artificial wave market."
Another interesting point is that Slater also has a share in Firewire Surfboards. While this project is a separate venture, there appears to be some crossover; the 'aerospace composite' stringers are a borrowing from Firewire's Linear Flex Technology, while the combination of EPS blanks and entropy bio-resins employed by Slater's new boards is what drew him to Firewire in the first place.
The project has been pretty hush hush over the last few weeks. BeachGrit reached out to ex Channel Islands employee Travis Lee for a comment. He said: "I'm trying to stay pretty silent 'til our consumer launch just so you know. The boards will be available at most surf shops globally in April, stocks and customs yes. The web info will be available closer to launch…"
So, april eh…not too long to wait before you can test-out one of the first designs.
Perhaps this timing is planned—the start of the 2016 pro tour is when most people will be questioning the look and feel of what's under Slater's feet more than ever. We would assume he'll be surfing on of his new sticks in competition this year, so it will be fun to see how he handles them in different conditions.
We're looking forward to watching these new boards in action. As always let us know your thoughts in the comments below.
Via: SurfEurope