It's fair to say that the majority of us action sports and outdoor enthusiasts are pretty environmentally concious. After all, the Earth provides our rad natural playground. However, our sports and adventures aren't always as environmentally friendly as we would like to believe.
Take surfing for example, you grab your fibreglass or epoxy board (not a very eco-friendly material) and zip it up into a poly fabric board bag. Then, unless you live right next to the beach, you hop in your car and drive an hour down the road before putting on your neoprene wetsuit and paddling out. It's only at this stage that surfing becomes more eco-friendly, at least when compared to Motorsports.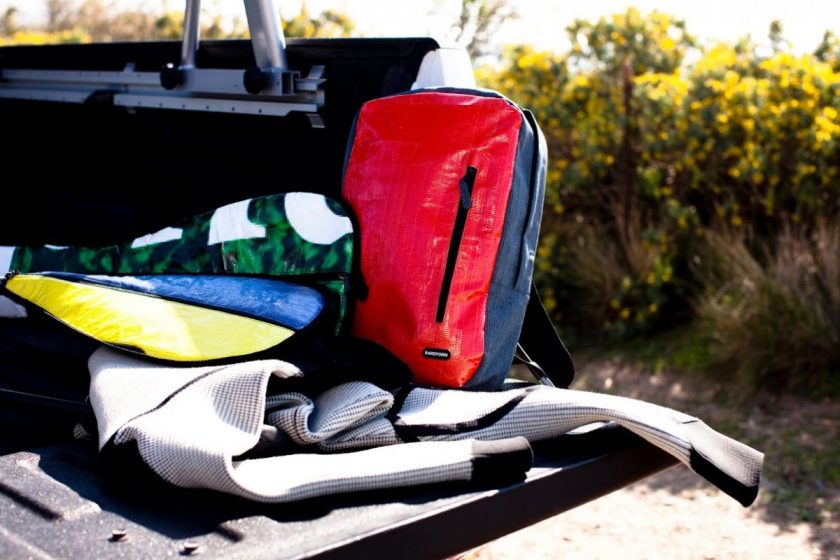 Well, a company based out of Santa Monica, California seeks to make some of our non-eco-friendly kit a little more green, and not just with a paint brush. RAREFORM specialise in manufacturing board bags, as well as a few other products, out of recycled billboards. This both reduces the amount of plastics being dumped in landfills and the amount of fresh plastic needed to produce gear. Plus, as a bonus each bag is inherently unique and looks awesome!
RAREFORM was founded in 2012 by two brothers: Alec and Aric Avedissian. Alec was never comfortable in a suit, which a lot of us can relate to. After working in investment banking and renewable energy, Alec decided to walk away from a career in corporate America and clear his head on a six-month surf trip through South America with his closest buddies. The group traveled through six countries, ate local food, hiked volcanoes, and searched for the world's longest left wave (they found it by the way, in Chicama, Peru). It was also this trip that convinced Alec that business could be done differently.
While trading off between consulting with rural businesses and surfing perfect breaks in El Salvador, Alec recognized the interconnectedness of poverty, environmental degradation, and the outdoor industry. Following a tip from a friend that billboards could be upcycled and turned into bags, Alec began dreaming of creating a business that could reduce waste in the world and sustain our playground – the mountains, rivers and oceans that all outdoor enthusiasts cherish. RAREFORM was born.
The Process:
1. RAW MATERIALS
The process starts by selecting the raw materials and intercepting the billboards before they reach landfill. RAREFORM have partnered with companies like Lamar Advertising, the USA's largest outdoor advertiser, to ensure that they have an ample supply of quality material. Each billboard is made of heavy duty, water-proof, and mildew proof vinyl, an ideal board bag material.
2. CUTTING THE BILLBOARDS
Unlike some other raw materials, billboards aren't sold in rolls by the yard. RAREFORM's Cutting Crew goes through the massive piles to select, cut, and carve the billboards with the best colors and the least amount of wear. In the words of RAREFORM, "the Cutters are the heroes of our process. They see potential. They use their hands. They get dirty."
3. BAG DESIGN
After the billboards are cut, any dirt and grime they've picked up beside the road is washed off. It's at this point in the process, once they're clean, that the "old" billboards start to look "vintage." The Sewing Team stitches the pieces into finished bags, each of which is unique in the truest sense of the word. No two Rareform products are exactly alike, which is an added bonus of the upcycling process.
RAREFORM's aim is to give all outdoor enthusiasts an opportunity to be active problem solvers. To be a company that makes a positive impact in the world, a company that does more than just profit from a product, a company that lets good run wild. ADAPT network shares this ethos and I think that RAREFORM are doing an awesome job at achieving these goals. Beyond their natively green business, RAREFORM have partnered with 1% For The Planet, meaning that 1% of sales go to the preservation and restoration of the natural environment.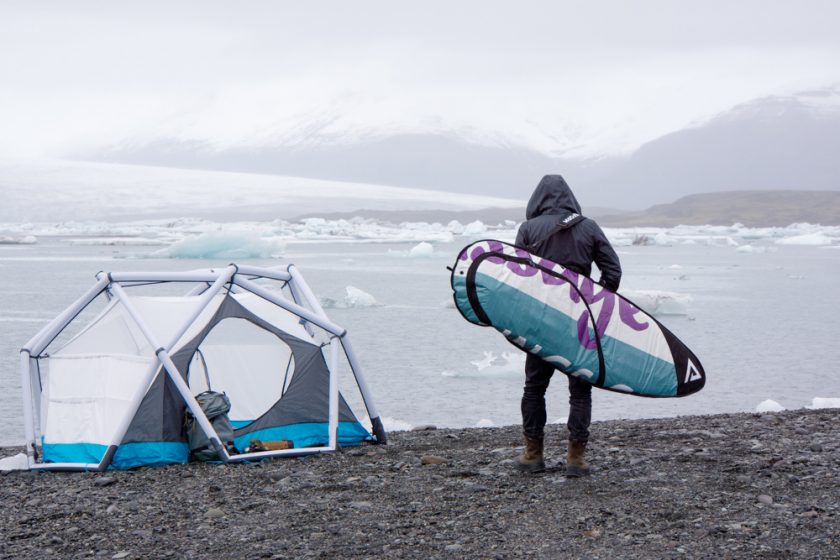 So if you're in the market for a new board bag, or backpack and want something that's unique and environmentally friendly check out the RAREFORM shop.