With many outdoor-focussed apps now available on iOS and Andriod devices, a good smartphone can prove really useful in a wide range of situations. Whether you want a personal ski-guide, cycle route suggestions or an outdoor treasure hunt you can probably find an app for it. Most smartphones, though, are not designed to withstand the elements—dirt, rain and snow can be fatal for our fragile tech companions. Cue the Land Rover Explore Outdoor Phone, a surprisingly high-end attempt to construct a tough device that goes way beyond being drop-proof and freeze-proof.
That's right…you heard me correctly; Land Rover—a brand more commonly known for its rugged, go-anywhere, do-anything vehicles—kicked off 2018 with the reveal of a brand new smartphone. The Land Rover Explore Outdoor Phone was unveiled earlier this year at the massive outdoor industry tradeshow, ISPO. The handset is actually made for Land Rover by a British-based mobile company called Bullitt, but the branding—and the performance—meant it caused quite a stir at the show. Not least because it bagged a prestigious ISPO award.
This is not the first outdoor smartphone that Bullitt has developed. The company, founded by three former Motorola employees, previously teamed up with Caterpillar to make the Cat phone—an especially rugged device aimed at tradespeople that can "sit in a toolbox and get bashed around without breaking".
With a bunch of 'adventure-ready' features, out-of-the-box, the Land Rover Explore is all about navigating the great outdoors (for any Zelda fans that might be reading this, it's like a real-life Sheikah Slate, from Zelda: Breath of the Wild.) Pre-loaded with mapping expert ViewRanger's Skyline augmented reality mapping, the device also features a GPS patch antenna (that makes it as accurate as a standalone GPS device) and an extra battery.
Design and display
As you've probably realised by now, you won't get super-slim bezels and an edge-to-edge screen with this phone. Instead, the 5-inch display is wrapped in Corning Gorilla Glass 5 for extra durability and scratch-resistance.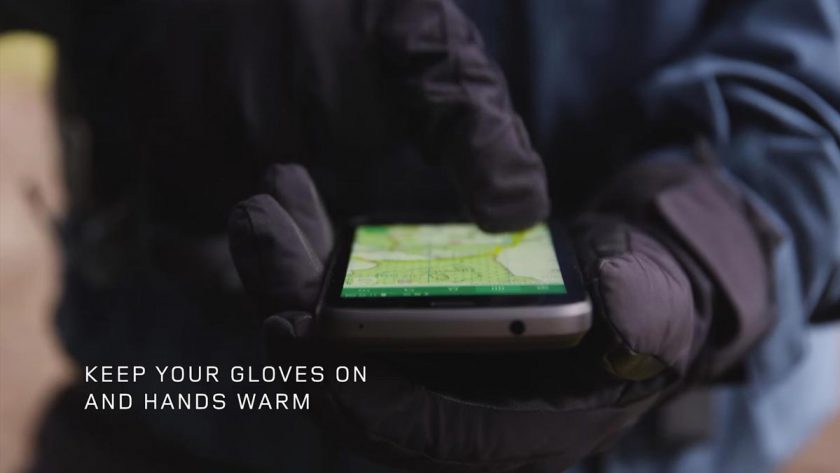 Although the Land Rover Explore is primarily designed to withstand anything the outdoors can throw at it, it's a surprisingly sleek device. Sure, it's bulkier than most smartphones on the market, but, from the early photos and video, Land Rover's Explore Phone looks easy to hold and pocket-friendly.
The designers have been smart—playing to the phone's strengths—by concentrating on making the device look tough rather than ultra-stylish. The design inspiration, perhaps unsurprisingly, comes from a Land Rover's Discovery 4×4. Specifically, the design of the Discovery's front grill and headlights is mirrored around the Explore Phone's camera, and the phone's back cover bears a resemblance to roof bars.
Magnetic back and modular design
Perhaps one of the most intriguing features of the Land Rover Explore Phone is its modular system. The back of the phone is magnetic, meaning you can attach multiple accessories to the handset with magnets, mounting points and pogo pins. These accessories come in the form of packs—a collection of feature-expanding components focused on a specific activity. The mounting points mean that you can attach a number or non-stock accessories to the phone, as well, to build out your own 'packs'. For example, you could add a carabiner to attach the Explore Phone to a climbing harness.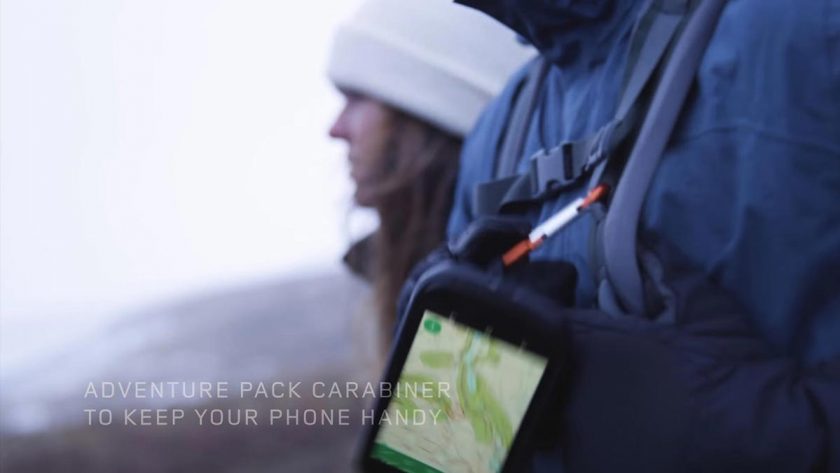 At the moment, Land Rover has only announced three packs: the Adventure Pack (which the phone comes bundled with), the Bike Pack and the Battery Pack. The Adventure Pack adds an additional 3600mAh battery (for a grand total of 7600mAh) and a 25mm ceramic patch GPS antenna. Both accessories are IP68 certified, meaning they can withstand light dust and dirt, and have been drop-tested to 1.8 meters.
According to Mpora, that were able to get some hands-on time with the Explore Phone at ISPO, a single battery maintained a near-full charge throughout the day at a range of temperatures (as low as -5°C). They estimate that in combination with the extra battery pack, the Explore Phone could give you around four days without having to recharge, making this perfect for expeditions.
The 25 x 25mm GPS ceramic patch antenna aims to replace the need for standalone GPS devices by overriding the Explore's built-in antenna and boosting the chance of you getting a signal in off-the-grid locations.
The Bike Pack is less exciting but still useful and comes with a stem and handlebar mount. The Battery Pack, on the other hand, adds a whopping 4370mAh to the main unit. Each Pack is interchangeable, so you could mount the phone with the GPS module onto a bike, if you wanted to.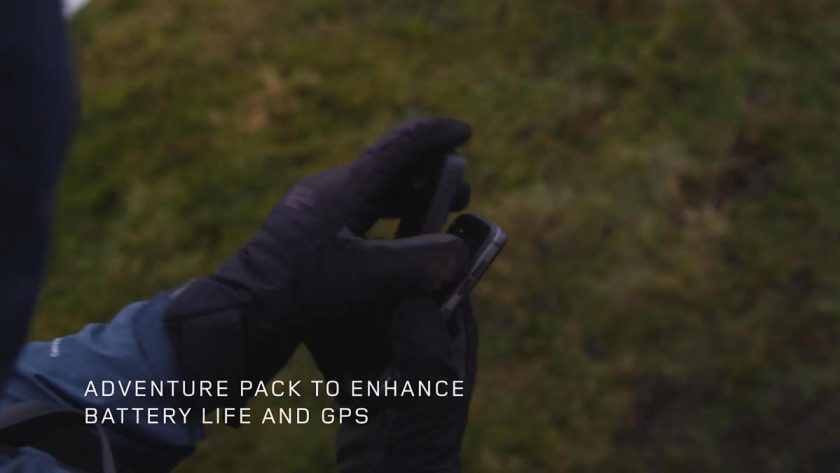 We've seen modular phones before, and the problem has always been hardware support. The Explore phone is a little different though, because its modular aspirations are tied to specific activities. I hope to see Bullitt releasing a skiing, surfing or sailing Pack in the future. The hope is that the phone will double-duty as a daily driver during the week, with the ability to specialise (with Packs) for weekend adventures.
Firmware and outdoor apps
Each pack can also be set to automatically launch a navigation app. These include ViewRanger, a premium application with detailed Ordnance Survey maps for hikers and cyclists. With the Adventure Pack's GPS antenna attached, you can also get the most out of ViewRanger's Skyline augmented reality app. It can identify local landscape features through the phone's camera to pinpoint exactly where you are, then using real-time overlays of directional arrows to tell you which direction to walk in.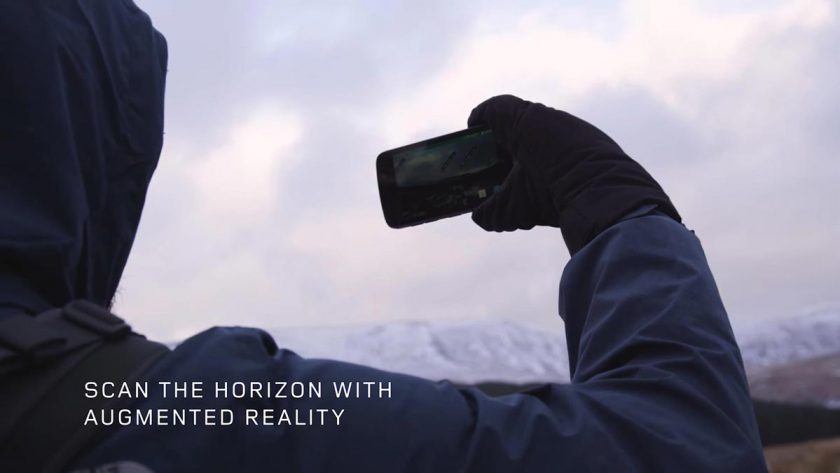 The firmware side, Bullitt has prioritised quick-access to these outdoors apps; whatever app you happen to be in, there's a small black circle constantly on-screen that can be touched for quick access to mapping, weather info, sunrise and sunset times, information about tides, and even your altitude.
There's so much attention to detail here; there's even a night red filter mode built-in to preserve night vision. That's great for astronomers, and for early morning hikes in the dark when you white-light glare can be blinding.
Tech Specs
Huge battery (4000mAh) plus add-on Battery Packs
IP68 Splash, Water and Dust resistance
Drop-proof to 1.8 metres with factory fitted screen protector
Premium grade, detailed off-road topographical mapping options from ViewRanger
Android 'Nougat', with scheduled upgrade to 'Oreo'
4GB RAM and 64GB ROM, expandable via microSD
Deca-core 2.6GHz 64 bit MTK Helio X27 chipset with Dual SIM functionality
16 MP Rear camera, 8MP front camera, 4 x digital zoom
Bright 5 inch FHD display, Corning Gorilla Glass 5 protected, optimised for outdoor use
LTE Cat 6
Land Rover Explore Phone price and release date
The Land Rover Explore is expected to go on sale later this month (April 2018) for £599 (UK) / $838 (US) / $1,061 (AUS). That price includes the Adventure Pack. Bullitt is staying tight-lipped about the Bike and Battery Pack pricing, however, it's expected to be somewhere in the £70 to £100 range.
Featured image: Land Rover