Page 1 of 2
This year's Consumer Electronics Show (CES) has now wrapped, but left us with a tonne of awesome and innovative technology to look forward to in the near future. CES is the tech world's biggest party, bringing industry giants and start-up innovators together—to show off their latests and coolest inventions. Kicking off the new year, CES not only follows major tech trends but also creates them, giving us an idea of what might be just around the corner.
Following on from last year, CES 2016 showcased further innovations in both car and virtual reality technology. TVs were also a prominent feature of the show, with turntables making a surprise comeback and smart devices looking more refined.
With so much tech to see at the show however, it's often difficult to discern these trends and pick out the best gear. That's why we've put together this list of the best gadgets and tech from the show. Here are ADAPT's Top Picks for the best tech at CES 2016.
Automotive Tech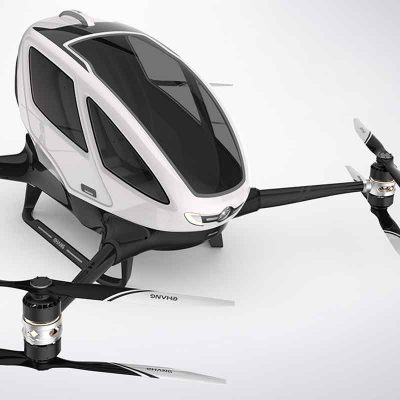 Ehang passenger drone
The Ehang passenger drone was undoubtedly the star of the show (at least on the automotive/vehicle side of things). Styling wise, it's reminiscent of something out of the N64 game Perfect Dark. Perfect Dark was set in the year 2023, which leaves 7 years to get the Ehang into full production and airborn. Ehang, the China-based drone maker, unveiled the 500 lb/230 Kg drone at the show to an excited crowd. In theory the drone would be able to serve as an autonomous transportation vehicle for real humans. According to the company, the 'fullsize-quadcopter' can fly one person at approximately 100 kilometres (62 miles) per hour on a roughly 23-minute trip. The all-electric drone even has redundant equipment to ensure safety in bad weather. It's not legal in the U.S. or U.K. yet though, and we would imagine that special airspace controls and measurements would need to be taken in order to get this concept off of the ground (see what I did there?)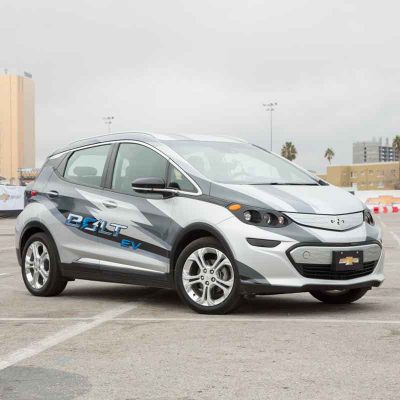 Chevy Bolt
The Chevy Bolt provides an affordable and stylish electric drive that rivals the top-of-the-range Tesla models. The roomy but compact EV crossover boasts a 200+ mile range, seating for five and an impressive 10.2-inch touchscreen that debuts the new MyLink infotainment system. The price point sits at $30,000/£20,000 and given the range and specs of this eco-friendly electric motor, that's a pretty good deal.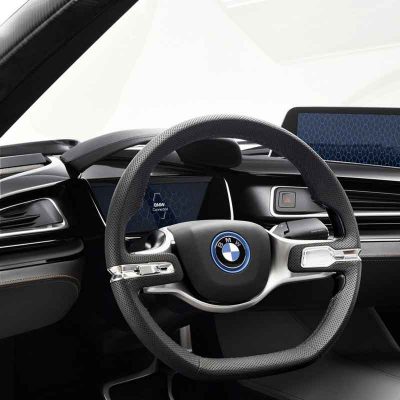 BMW AirTouch 3D
At CEC 2015 BMW showcased its super-cool gesture control concept, but no one thought it would reach production—at least not in the near future. BMW came in hot at CES 2016 however, having already integrated this gesture control system into the dashboard of the 2016 7 Series. To further up-the-anti at this year's show, BMW has launched the new AirTouch 3D gesture control system in the i Vision Future Interaction concept car. With it, you can control the car's in-dash screen just like a touchscreen without ever actually touching it. Aside from being awesome and fun to use, this gesture control concept is the next step in reducing distracted driving and therefore improving road safety.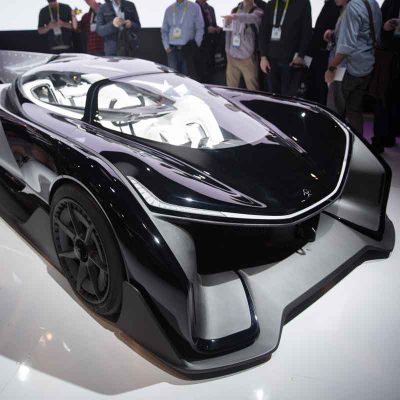 Faraday Future FFZERO1
In just 18 months, the Chinese-backed EV upstart automaker (Faraday Future) has designed an all-new and scalable electric architecture. Along with the impressive eco-friendly platform, FF also designed—with the help of virtual reality—the 1,000-horsepower FFZERO1 track car that hints at coming into production with its 'UFO' body line. It looks like you wouldn't be able to buy the car however, since Faraday are aiming to market this track-car and it's core electric architecture as a 'service'.
Smart Devices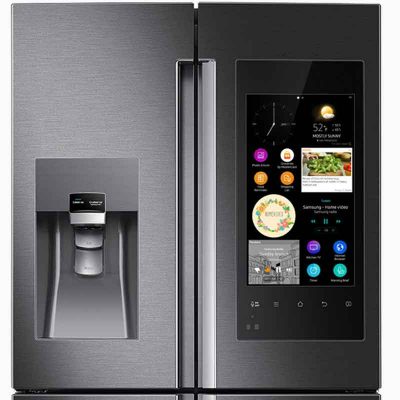 Samsung Family Hub Smart Refrigerator
Samsung's Family Hub Refrigerator combines a massive 21.5-inch, full HD touchscreen with surprising intelligence. More than just a giant smart phone attached to a fridge door, the 'smart fridge' is the first refrigerator to integrate Amazon Alexa. The kitchen appliance features a pair of internal cameras that can monitor the fridge's contents; this information can then be accessed via a mobile app or through the touch screen panel. The idea being that this setup will help organise shopping lists and recipe ingredients. The large, gorilla-glass-covered screen is also designed to act as a sort of replacement for all the important notes you can no longer attach via magnets to modern stainless steel refrigerators.
We would probably use the 'smart fridge' for doodles and get addicted to any games developed for the device, but for those looking for a more intelligent kitchen, the appliance would make a rad culinary companion.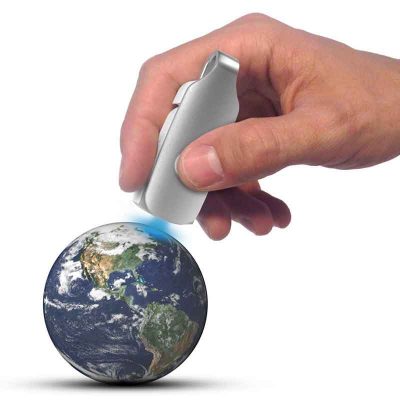 SCiO molecular scanner
Now this is like something out of Star Trek. The SCiO scanner allows you to scan materials or physical objects and get instant relevant information sent directly to your smartphone, via Bluetooth. From French startup DietSensor, and developed with the help of Consumer Physics, the device uses near-infrared spectroscopy (the analysis of molecular interaction with light) to determine the chemical make-up and molecular content of materials. It will hit the consumer market later this year. The possibilities are endless, but food seems to be the big selling point here.
You could use the scanner as part of your nutrition program by scanning your food for nutritional and calorie content—though you might just want to do this out of curiosity. The device could also be used to help pick the ripest fruit when shopping; while this is often obvious, the ripeness of some fruits—such as watermelons—are a little harder to gauge.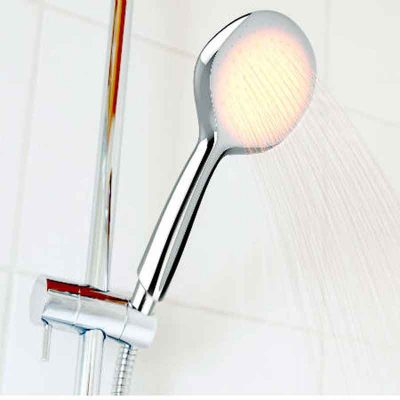 Hydrao Smart Shower
Saving water, even a little bit, can make a big difference when it comes to looking after our Planet. While most of us want to protect Earth, after all—it's our 'adventure playground', the daily routine can take over sometimes and we can find ourselves doing less, for the environment, than we would like.
That's where nifty little gadgets like this hold their own. While gauging how much water we are wasting can be difficult, the Hydrao Smart Shower is a genius answer to this problem.
The Bluetooth LE shower head connects to an iPhone or iPad app where you can set alert intervals, like five gallons, seven gallons and 10 gallons. At each interval, LED lights will light up in three different colours to remind you how much water you're using. Even more sustainable, a tiny turbine uses the water running through the shower head to generate enough energy to power the lights and Bluetooth connectivity—now that's neat.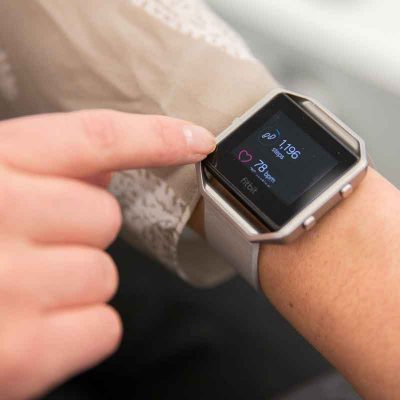 Fitbit Blaze
The Fitbit Blaze ($199/£140) is the latest offering from fitness tracker powerhouse, Fitbit. It was met with mixed reaction at CES, but the company's second attempt at a fitness watch is a complete redesign in style, compared to its gen 1 predecessor, and packs more of a punch, with powerful internal-specs. The Blaze features a colourful touchscreen, a collection of stylish leather and stainless steel bands and an assortment of personalization features. While it puts fitness first—you won't be able to get Twitter notifications on this watch—you'll still be able to answer phone calls, check out text messages and receive calendar alerts.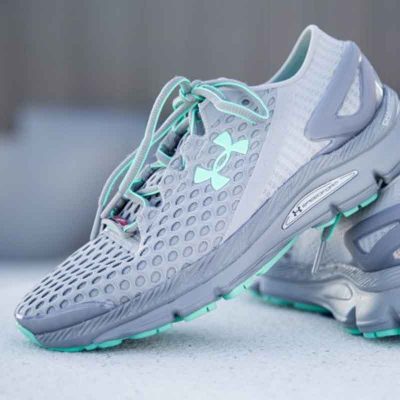 Under Armour Gemini 2 sneakers
Under Armour's Gemini 2 sneakers ($180/£130) are another fitness tracker offering, showcased at CES 2016—this time, for your feet. The sensor-filled sneakers track your workouts without needing to tether to a smartphone (which means you don't need your expensive smart phone with you when you're on the trail). When wearing the shoes, the tiny sensors embedded within the soles track where you're going, the distance you've travelled and calories burned—all details which are transmitted later to a corresponding app.
Check out the next page for the best in Computing Tech, Audio, Tv Tech, Virtual Reality and Camera Tech
Page 1 of 2