By now, you've probably heard or read articles about the benefits of upgrading to a solid state drive. Over the last few years, the cost of these faster storage drives has decreased massively. So, is it a good time to consider an upgrade?
Hard Disk Drives (HDD) Vs Solid State Drives (SSD)
The traditional spinning hard drive is the basic nonvolatile storage on a computer. That is, information on it doesn't "go away" when you turn off the system, as is the case with data stored in RAM. A hard drive is essentially a metal set of disks with a magnetic coating that stores your data. A read/write head on an arm accesses the data while the disks are spinning. While you can purchase high capacity hard drives, quite cheaply, the read and write speed is severely limited due to the requirement of mechanical data access. So, hard drives are great for long-term archiving, but not so good when it comes to everyday performance.
That's where solid state drives come in. An SSD does functionally everything a hard drive does, but data is instead stored on interconnected flash memory chips that retain the data even when there's no power present. The chips can either be permanently installed on the system's motherboard (as on some small laptops and ultraportables), on a PCI Express (PCIe) card (in some high-end workstations and an increasing number of bleeding-edge consumer systems), or in a box that's sized, shaped, and wired to slot in for a laptop or desktop's hard drive (common on everything else). These flash memory chips are of a different type than is used in USB thumb drives, and are typically faster and more reliable.
But, is it really worth upgrading, or adding an SSD to your system. To find out, Western Digital sent us one of their new WD Blue 500GB solid state drives, to take a look at.
Western Digital's new SSD lineup currently consists of two models: WD Green and WD Blue—with the WD Green designed for everyday computing tasks, and the WD Blue being the higher performance model. Both variants come in 2.5" and M.2 form factors, and boast impressive read and write speeds, with a maximum capacity of 240GB (for the WD Green) and 1TB (for the WD Blue). The 500GB, that Western Digital sent us, has an endurance rating of 200 Terabytes Written (TBW), meaning that it can handle 200TB of data being written onto the drive, before risking any read or write failures. It's, therefore, going to last a very long time for most users, even for those with heavier workloads.
Installation
Installation is easy. With our 2.5" model, we simply needed to insert the drive into a free storage bay and then attach the SATA and power cables. It's worth making sure that the SATA cable is a version 3, supporting a 6Gb/s transfer rate, to fully utilise the SSD's performance.
Benchmark
Before jumping in, and testing the drive in a real world scenario, we ran some benchmark tests, using CrystalDiskMark, to see how the numbers compared between the SSD and our system's stock hard drive. While all the numbers, for the solid state drive, were much higher, which is good, the most useful figures to pay attention to are the 4K random results (see video). This represents the real world performance, where the system is jumping around reading random portions of the drive. And of course, the numbers speak for themselves.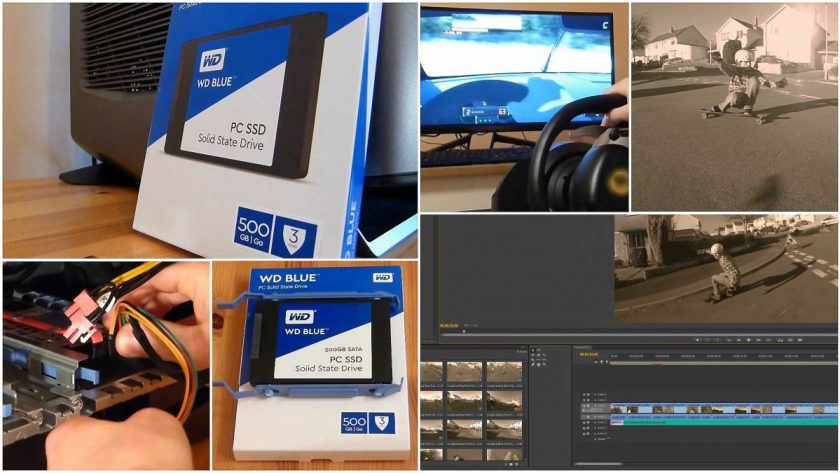 Video Editing
To test the SSD in a video editing scenario, we put together a little ADAPT Network promotion video. By firstly installing our video editing and effects software onto the solid state drive we saw much shorter load times, meaning we could spend more time editing and less time waiting for programs to load. Pulling source files from the SSD, also speeded up our workflow, and by pairing it with our high capacity hard drive we still had plenty of storage to archive our completed project. The most impactful impact we saw, though, was with video rendering. Rendering our 5 second outro sequence onto the SSD was 2 seconds quicker than with the hard drive. If you do a lot of video editing, that adds up to a lot of time saved.
Gaming
Next up: gaming. We installed a number of games onto the SSD to see how the performance improved. When games are installed on a hard drive, the slower read speeds can cause a bottleneck, meaning that you can experience late object pop-ins, or worse. By installing games onto the SSD, the faster read speeds massively cut loading times, and the experience was ultimately more immersive as a result.
Conclusion
So it's clear that upgrading to a solid state drive is the perfect way to give any system a substantial boost in overall performance. Combine an SSD with a high capacity hard drive, to archive large files, and you've got yourself a winning combination. With Western Digital being a brand that's earned trust with their reliable hard drives, over the years, it's definitely worth checking out their new solid state drives if you're in the market for one.